Power Outages—Ready Your Tampa Bay Area Home In 7 Simple Steps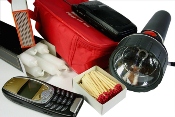 A power outage can be an upsetting experience if you're unprepared, especially if you have children with you. While stormy and windy conditions often lead to power outages in the Tampa Bay area, they can happen at any time. Here are seven steps that will help you ready your family and your home for an outage:
Stock up on batteries. Your portable radio and a good supply of flashlights are vital during power outages. Check your equipment in advance to make sure it has working batteries, and set several days worth of extra batteries aside.
Insulate your home, and seal up cracks and gaps. A well-sealed home will help protect your family from the elements when a power outage knocks out your home-comfort system. Caulk and weather-strip your windows and doors.
Set aside candles and a lighter. In the event of an outage, burn candles away from anything flammable. Make sure your children understand that candles and lighters aren't toys.
Secure a phone that doesn't require electricity. If you have a landline, keep a phone that isn't cordless and doesn't have an answering machine. Buy a car charger for your cell phone, so you can charge your phone in your vehicle.
Get to know your electric panel. Familiarize yourself with what switch or fuse goes to what part of the house. Keep a supply of fuses on hand.
Pack an emergency meals kit. Pack an emergency kit with enough water and nonperishable food to last 72 hours. Pack a kit for each family member.
Keep cash and change on hand. ATMs go down during power outages.
At Simpson Air, we'll be glad to help you prepare your home for power outages. Whether you need help sealing up your home's envelope, beefing up the insulation or choosing a home generator, we'll be glad to answer questions. Contact us today.
Simpson Air – The Coolest Guys in Town! services the Tampa Bay Area of Florida. Visit our website to contact a service expert today about any power outage questions you may have.
Power emergency kit image via Shutterstock.