Our Trained Technicians Know When Your Air Conditioner Needs Part Replacement Or An Upgrade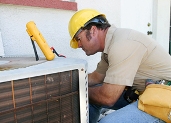 Air-conditioning technology has changed in many ways over the years. Cooling systems are much more efficient and far less damaging to the environment when they're used for long periods at a time, as they are here in the Tampa area.
If you have an older air-conditioning system, you may not know whether you should repair the unit when it's not running the way it should or upgrade to another model. A repair may seem cheaper at first, but if an upgrade will save you money in the long run, you might be better off buying new equipment.
When deciding to repair or replace, keep in mind that you can save up to 20 percent on your air-conditioning and heating costs by upgrading to a new unit. This can help you offset the cost of the upgrade.
If you have an air conditioner or heat pump that is more than 10 years old, it is definitely time to invest in a new unit. Replacing parts on a system that old would just be dumping money into a machine that isn't likely to last much longer.
A trained technician can identify the difference between problems that can be easily repaired and problems that call for replacement. Here are some of the problems caused by an air conditioner that needs to be replaced:
Poor humidity control.
Excessive dust.
Uneven cooling and heating.
Rising energy bills.
Excessive noise.
If you have any questions about repairing or replacing your equipment, contact us at Simpson Air. Our consultants and service pros are happy to answer your questions about repairing your system or upgrading to a new one.
Photo courtesy of Shutterstock.