Air Conditioning Repair
Our AC repair technicians, who are not salesmen, will:
Listen to you to thoroughly to understand the problem you are having with your air conditioning system.
Use their knowledge and experience to investigate and properly diagnose your AC problem on any make or model air conditioner or heat pump.
Provide up-front pricing on the right solution, which could be a simple repair on a thermostat to an AC replacement.
Use their training, the highest standard in the industry, to repair the AC problem. Utilizing trucks that are like rolling warehouses, 99.9% of the time will be able to diagnose and repair your air conditioner during the initial trip.
And we'll do as if we were working in our own home... cleanly, carefully and efficiently.
A Trusted Air Conditioning Contractor in Tampa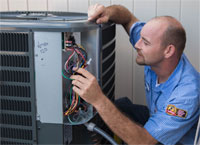 Simpson Air is proud to maintain an A+ rating with the Better Business Bureau, and has been awarded "Small Business of the Year" by the Tampa Chamber of Commerce.

You can trust Simpson Air for quality air conditioning repair service at a fair price. Our HVAC technicians have the experience, tools and knowledge to investigate, diagnose and provide the proper AC repair your system needs. Our continued commitment to unmatched customer service allows us to deliver the quality AC repair service we have become known for in Tampa.


Schedule Your AC Repair
Contact Simpson Air by calling us at (813) 558-0858(813) 558-0858, or online to schedule AC service/repair, or to schedule a free estimate to replace your existing system.


We Want to Help You Avoid Repairs!
Simpson Air is on your side! If a repair is not yet required, be sure to check out our Air Conditioning Maintenance page to keep the air conditioning system in your Tampa home running smoothly.