The Unthinkable Can Happen, If You Don't Install A Carbon Monoxide Detector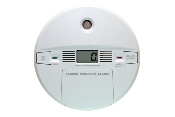 It may be tasteless and odorless, but carbon monoxide is deadly. Fortunately, you can affordably avoid the unthinkable simply by installing a carbon monoxide detector in your home. If you have fuel-burning appliances in your home, including a furnace, water heater, fireplace or gas stove, you should have carbon monoxide detectors to protect your family.
When fuel is burned, whether it is gas, oil or wood, one of the by-products is carbon monoxide. If this toxic gas is allowed to build up in your living spaces, it can put you and your family at risk. A properly functioning carbon monoxide detector will alert you when gas levels are present, before they become dangerous.
Some of the reasons for build-up of carbon monoxide are preventable:
Inadequate Venting – If your home does not have enough fresh air circulating as old air is being exhausted, carbon monoxide and other pollutants can build up. You can prevent this by working with your HVAC contractor to ensure your home has adequate ventilation.
Malfunctioning Appliances – The best way to avoid carbon monoxide build-up from heating appliances is to invest in preventive maintenance. Not only will your technician ensure that your equipment is operating safely with proper ventilation, it will also improve the energy efficiency of your home comfort system.
Faulty Alarm – Although this is rare, you can avoid this problem by getting an alarm that allows you to check whether it is functioning. Look for a carbon monoxide detector with a display that shows the exposure level and check your alarm on a weekly basis.
Carbon monoxide detectors should be installed on every level of your home, and ideally near bedrooms, to ensure that if the alarm goes off, all family members in the house will be able to hear it.
If you need to install carbon monoxide alarms in your home, or if you want to upgrade your existing ones, call the professionals at Simpson Air. We'll make sure they are properly installed in the appropriate locations throughout your home so you can have peace of mind that your family is safe.
Photo courtesy of Shutterstock.