Simpson Air – The Coolest Guys in Town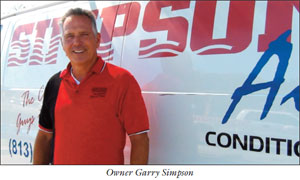 June 10, 2013
Featured Article from Neighborhood News Florida
The air conditioner, the only appliance that runs 24/7 and probably the one that's most taken for granted…. until it fails. Luckily for Tampa Bay residents, Simpson Air has been keeping homes cool and comfortable since 1999, providing unsurpassed customer service and cutting edge expertise in the maintenance and installation of home comfort systems.
Known as "The Coolest Guys in Town," the saying is more than a motto, it's a mission for the company.
"We don't sell air conditioning," says Garry Simpson, co-owner of Simpson Air, "we sell peace of mind through the home comfort systems we install, maintain and service. While many companies install units, we use our extensive knowledge and training to do the job right the first time, maximizing performance of the system and teaching the homeowner how to save money while keeping cool."
Simpson notes that by applying their experience and knowledge to the technology they install, versus a simple install and walkaway approach, customers understand that the job was done right, their satisfaction level is high and they're more likely to refer you to others.
Married for 18 years, Garry and Paige Simpson work together as a team to bring you the very best in home comfort. Garry says, "It is important to be partnered with someone you trust, and someone who is there for you. With her experience in business and mine in air conditioning, we really complement each other to form a strong foundation for our business."
Born and raised in Tampa Bay, Garry has been in the air conditioning industry for more than 35 years and has worked every position in the business – from installations to service to duct work. Long a believer that "knowledge is just as important as the technology we install," Garry became a licensed State Mechanical Contractor in 1997 to further his understanding of the mechanics of air flow, air balance and duct systems.
"What really separates us is our understanding of how air travels through a home to make each and every room comfortable," says Paige. "Having that understanding makes us unique in that not a lot of companies comprehend the mechanics of duct systems and how they work."
Garry adds, "Many people don't realize the importance of having good duct work and that if they don't have a good duct system, their air conditioning unit, no matter how good it may be, will ultimately fail. That's why we put so much emphasis on education and training."
Paige notes that "We are only as good as our employees," and Garry has done an extremely good job of duplicating himself by educating his employees and imparting his extensive knowledge onto them. For Tampa Bay customers, this means that no matter which of their 30 plus team of installers and technicians, puts in your system, the same quality work is always a guarantee.
Garry says, "We have taught our employees to take ownership in their work and apply that to each installation."
Through their unique blend of knowledge and technology for year-round comfort, customers are all too willing to say "thank you."
Customer Nic wrote, "Our experience with Simpson Air has been tremendous and we heartily recommend Simpson Air to everyone for diagnostic repairs as well as new duct work and equipment. We had been thinking about getting our ducts redone so I called Simpson Air. Simpson showed up and we discussed our options. He looked over everything and got us a quote. Now, we not only have wonderful cool air in our office but the Carrier Performance system is delivering humidified air to all parts of the house on an equal basis including our walk-in closet. Simpson's duct work design and layout has proven itself! The two technicians Travis and Lyle did a great job. They arrived early and stayed late while working efficiently and quickly to get the installation completed. They minimized the dirt and dust and always cleaned up at the end of each day. Thank you, Simpson Air!"
While helping customers achieve total satisfaction is the Simpsons' first priority, so too is giving back to the community that has supported them for 14 years. Through financial contributions and product donations, Simpson provided more than $100,000 over the past five years to non-profits in needs. Among those helped was the Cambridge Christian School, who received numerous condensers and air handlers among other things to help the school offset these expenses to their bottom line.
The company also supports the Museum of Science and industry, The Homeless Emergency Project, Clearwater for Youth, University of South Florida, Charity Works and the Humane Society, among others. Running from Memorial Day to Labor Day, the company is running their Military Appreciation contest, where one lucky winner will receive a free home comfort system courtesy of Simpson Air and 620 WDAE.
For Simpson's leadership in the community, their commitment to customer service and the exceptional quality of their work they provide, the Greater Tampa Bay Chamber of Commerce awarded them the 2009 Small Business of the Year.
Paige says, "It's our name on the business and we take it very personally. We care about our customers and offer true guarantees on all our work and installations."
Simpson Air services all makes and models and is exclusively a Carrier dealer. As a C-Fed dealer, Simpson Air is able to offer these high-end units at a very competitive price. Garry says, "We offer the best pricing on Carrier. That is the brand we are loyal to and a brand we truly believe in." Simpson Air also is a proud recipient of the 2013 Carrier Presidential Award – an honor awarded to only three dealers on the west coast of Florida.
Simpson Air currently has 30 plus highly-trained installers and technicians, and as they continue to grow, they are constantly looking for experienced team members who share with them the same values and commitment to customer satisfaction that have helped them to remain so successful for the past 14 years.
Paige and Garry take pride in their company and go above and beyond to ensure the highest level of quality service to all of their customers. As their mission statement proudly reads, "For the person accustomed to paying for a certain level of quality for comfort and peace of mind for their family, Simpson Air is Tampa Bay's trusted air conditioning knowledge broker that listens and responds with innovative solutions done right the first time, every time."