Simpson Mechanical Responds To Market By Opening New Division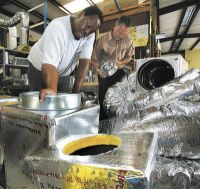 May 2, 2008
In the prefabrication workshop connected to the well air-conditioned offices of Simpson Mechanical Inc., Garry Simpson explains the ABC approach to air-conditioning installation. Gray insulated ducts, connectors and precut strips of metal have been organized and labeled to create a streamlined approach for crews picking up the parts and assembling them on-site: part A fits into part B fits into part C. Simple.
It's a system that mirrors the man — a direct, "no frills" Simpson Air approach for a direct, "no frills" kind of guy.
"It's really a simple idea," Simpson said. "You do it right the first time and business will come back to you."
It's a philosophy that has served the company well. After beginning as a one-man operation in the back of Simpson's garage in 1999, Simpson Mechanical grew to 42 employees and $9.2 million in sales by 2006.
To read the entire article, please click here.
Article and Photo Courtesy of The Tampa Bay Business Journal, May 2, 2008